Industrial inkjet printers from LEIBINGER
Coding and marking at its best
Due to their versatility, flexibility and efficiency continuous inkjet printers (CIJ) are the perfect solution for product coding and marking. The CIJ printers from LEIBINGER print text, graphics, barcodes and data matrix codes on virtually every surface including plastic, cardboard, glass, metal, wood and many more. Our industrial printers work on the principle of continuous inkjet: Non-contact, during ongoing production and using very fast-drying inks. What makes the printers from LEIBINGER so unique is the automatic nozzle seal "Sealtronic". It reliably prevents ink from drying in the print head and from clogging the nozzle. This eliminates time-consuming cleaning work when starting up or during your production. Our products "made in Germany" guarantee maximum productivity and reliability. Thanks to the large variety of printer lines, functions and options, LEIBINGER has the ideal coding and marking system for you.
Sealtronic
Makes CIJs work!
Equipped with the automatic Sealtronic nozzle sealing system, the Leibinger inkjet Printers are ready to print in just a few seconds and always start with a clean print.
With SEALTRONIC, your printer is always ready for use – even after work breaks or longer downtimes.
100% secure protection from ink nozzles blocking.
No drying out of ink.
Maintenance-free starting without rinsing cycles
Instant initialization with reliable print Quality
No more need for labor-intensive cleaning
Production losses can be consistently prevented
Uses fewer consumables
Shut-down
The ink return line, or gutter, is automatically retracted into the nozzle when the printer is switched off, creating a hermetically sealed, air tight circuit.
100 % protection against clogged nozzles!
Start-up
With the nozzle seal in place, the ink stream remains pressurized. The ink gutter moves into its open position
and within seconds, the system is ready to print.
Immediate start-up with consistent print quality!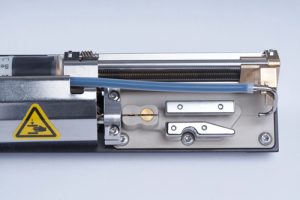 Call us today for details !