Labeling Systems
Loveshaw
LX-500P
This labeler is a compact apply-only label application system – designed for top, side, and bottom labeling applications. This label system features a brushless servo motor for accuracy and reliability and a drive roller-free patent-pending feed system with a dispensing speed of 120 fpm.
LX-600T
This is an apply only labeler easily integrates into most case/product handling systems.  This machine is best for requiring the application of preprinted labels onto a uniform or random run of cases/products.
LX-800T
Print-and-apply label application system designed to be simple, easy-to-use control interface for ease of operation and an isolated rewind shut off control. The cast aluminum frame is wide enough to accommodate all OEM printers.
LX-800DT
Best used for single tamp, dual tamp, and corner wrap labeling applications. The system can be fully set up and integrated in your production line in less than ten minutes for quick turnaround and features a user-friendly touchscreen and control panel.
LX-800RT
This print-and-apply label application system is engineered for single tamp and random box height labeling applications. This high-speed machine is capable of accurately positioning and applying 4"X6" labels at rate of 22 cases per minute.
Pallet Labeler LS-800PLT
The pallet labeler is built with the palletizing and stretch-wrapping environment in mind. Available as either print-and-apply or apply-only machine. Equipped with a heavy-duty pneumatic cylinder and scissor lift for easy height adjustment.
---
AutoLabe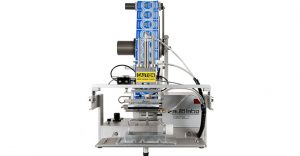 Model 560
This labeler places labels on tops, sides or bottoms of products with flat or slightly curved surfaces.
---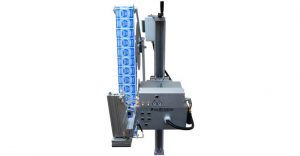 Model 140S
Applies a pressure sensitive label utilizing a positive tamp action to ensure complete label adhesion on the product container or package.  Tamp heads of different material from hard to spongy allow for product variation or surface differences.  The Tamp-Down Applicator may be used in any direction and a variety of tamp heads are available.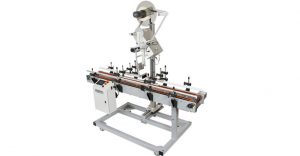 Model 610CS
Automatic labeling systems for Food Processors, Deli or Bakery Production.  The system can apply a single label around the top, side (closure) and bottom of plastic hinged clam shell containers.